---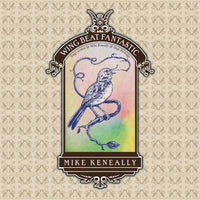 (Released in 2012. Read the
All Music Guide review.)
This magical new album from composer/producer/multi-instrumentalist/vocalist Mike Keneally is the highly anticipated result of a songwriting union between the famed rock experimentalist and legendary XTC tunesmith Andy Partridge.
Listen to Little Wing Beat, a collection of song snippets from Wing Beat Fantastic!
Their collaboration produced eight new songs, combining Partridge's innate sense of angular pop melody and beautifully intelligent poeticism with Keneally's experimental bent and surrealist tendencies. For Partridge fanatics, the album will be a trove of rare new material from a songwriter who's released precious little new work over the past decade. For Keneally enthusiasts, Wing Beat Fantastic represents his most melodic and pop-oriented release ever, while still maintaining the rich, detail-studded arrangements, love of sonic adventurism and superb musicianship for which he is renowned. More than any other Keneally album, Wing Beat Fantastic has an emotional resonance that engages the heart as adeptly as it does the mind.
A fairly breathtaking range of styles is presented, from the psychedelic pop sweep of the title song to the uptempo layered rock of "You Kill Me," a scathing look of modern hypocrisy in its many forms. "I'm Raining Here, Inside" kicks off the album with a ferociously infectious groove, indelible vocal melody and rippling guitars and keyboards. "That's Why I Have No Name" is a mid-tempo, brooding meditation with a driving piano and all manner of mind-bending effects gently whizzing throughout. "Your House" is an affecting ballad of unrequited love, almost shockingly accessible coming from an artist with Keneally's Zappa-related pedigree. "Bobeau" dances along on the infectious groove of Marco Minnemann's drums like the old-fashioned Steely Dan groove of everyone's dreams with an embarrassingly rich tapestry of keys, guitars, trombones and voices layered over the top.
And on Wing Beat Fantastic goes, one of the most nutritious and obsessively playable art-pop albums to be released in years.
"The chance to work with Andy was absolutely a mind-blower," recounts Mike. "He's a true songwriting hero of mine, and during the '80s he demonstrated that there was still a place for truly high-quality writing in pop music. His songwriting gift is still as strong as ever, and I'm fiercely grateful to be able to help bring new Andy Partridge music into the world."
Andy Partridge was equally inspired by Mike: "I didn't know how any of the tunes we'd agreed to write together were going to come out, but I know one thing, so musical is this man that him just sitting with a guitar across his lap or perched at a keyboard pulled things from me that I can honestly say 'I don't know where they came from.'"
"One such piece was 'Your House.' One morning I said 'give me a chord,' he did, and another... 'go up this time,' and he did. Suddenly the basis for a whole bittersweet tale flew out. This is tough to talk about as I'm internally fighting the anti-vanity police writing this, but Mike and I wrestled from nowhere as beautiful a song as my best XTC work. Sat in my microscopic garden shed studio, I was privileged to be part of some rare magic that day.  His inherent musicality set something off in me that was like a lovely bomb. No wonder Frank Zappa wanted to work with this man. When he sent me my copy of the finished album, and I got to this song, I couldn't hold back the tears. Thank you Mike, there are not many pieces of music that can do that to me."
Wing Beat Fantastic's songs:
The Ineffable Oomph of Everything, Part One
I'm Raining Here, Inside
Wing Beat Fantastic
The Ineffable Oomph of Everything, Part Two
You Kill Me
Friend of a Friend
That's Why I Have No Name
Your House
Miracle Woman and Man
Inglow
Bobeau
Land