---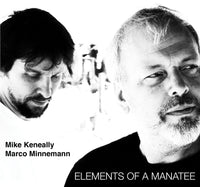 When Mike Keneally and Marco Minnemann collaborated on their critically-acclaimed
Evidence of Humanity
CD, Mike composed and played on top of Marco's prerecorded drum solo. And history shows that it turned out magnificently. But it raised the question, what would happen if Mike and Marco improvised together in
real time
? Mike and Marco were curious, too, so they agreed to meet at Marco's secret storage locker/rehearsal studio hideaway and let 'er rip. The startling 54-minute result (augmented by some overdubbed Keneally bass flourishes) appeared on the DVD that accompanies the
EOH
CD.
A few people have made it known to us that they wish they could enjoy this spontaneous musical eruption while driving, working or pipe-smoking in the study. So here you go, the audio portion of Elements of a Manatee is now exclusively available here at MooseMart as a very high-quality, reasonably priced download.
There are two types of downloads available:
MP3: A 115.1MB zip file containing high-quality (256k variable bit rate) mp3 audio files, compatible with all mp3 players. Our mp3s provide excellent sound for most uses. The files are DRM-free, meaning that there is no anti-copying code buried in them (we trust you).

FLAC: A much larger zip file (378.2MB, roughly four times the size of our mp3s) that offers CD-quality sound, the FLAC format is for experienced users and requires additional software. The FLAC format is not supported by iTunes or Windows Media Player. More information about FLAC can be found here: http://flac.sourceforge.net.
Songs on the Elements of a Manatee download are:
intro
A dense, heavy skeleton
Flat lungs
Pelvic vestiges
Muscles with little myoglobin
The dorsoventral motion of its fluke
Jaw
Small smooth brain
The vertebral column
Centra and its marrow
No milk storage
This is its soul
A place to sleep for the night
The lip
Two agile forelimbs
Inscrutable
They know where you are