---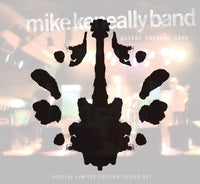 (Released in 2006. Read the
All Music Guide
review
.)
In addition to the amazing audio CD, this Special Edition of Guitar Therapy Live features a region-free NTSC DVD of MKB's legendary July 30, 2005 Baked Potato show mixed in stereo and Dolby 5.1 Surround that virtually puts you in the front row (many purchasers have said that this is some of the best live audio they've ever heard). Plus there's an entertaining and enlightening band commentary track.
In keeping with the ancient Exo-tradition, Mike has hand-numbered and autographed the first 3000 copies. Except for a few dozen remaining copies of the Dog Special Edition, all previous Keneally/Exowax Special Editions (Nonkertompf, Dancing, Wooden Smoke) have sold out, so we're not honking around here!
In mid-2005, Mike Keneally felt an irresistible calling to assemble his dream-lineup Mike Keneally Band and take to the road for the first time in years. So Mike, bassboy extraordinaire Bryan Beller, sublimely zen guitarist Rick Musallam and impossible drummer Joe Travers braved deserted highway flat tires, indifferent promoters, communal hotel rooms and financial desolation to Bring The Rock* to scattered hamlets across this great land of ours. Those who saw the Guitar Therapy shows were floored by the power, precision and concentrated emotion they experienced. And most nights, the band left the stage knowing something magical had gone down. Since this was very possibly a once-in-a-lifetime convergence, Exowax arranged digital multi-track recordings for some of the shows. Shortly after their return, Mike and Bryan listened to hours of live MKB performances and lovingly whittled them down to this energized CD featuring inspired new renditions of songs spanning Mike's career.
Here are the songs on the Guitar Therapy Live CD:
Quimby
Panda
Lightnin' Roy
Beautiful
Seven Percent Grade
Joe's Solo
Pride Is A Sin
Machupicchu
Spoon Guy
Uglytown
Hum
Voyage To Manhood
Top Of Stove Melting
'Cause Of Breakfast
* Powerful new cliche courtesy of Joe Travers.
Guitar Therapito

(Three minutes and six seconds of excerpts from each of the 14 tracks on Guitar Therapy Live)
©2006 Exowax Recordings, LLC
All rights reserved.