---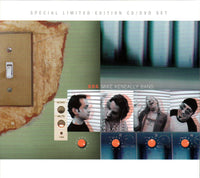 (Released in 2004. Read the
All Music Guide
review
.)
This special edition includes the audio CD Dog, but also contains a first for Exowax: Dog DVD, the acclaimed region-free NTSC DVD that includes live MKB performances in Dolby 5.1 Surround, behind-the-scenes studio footage and extras. And in the time-honored Exo-tradition, Mike has hand-numbered and autographed the first 2500 copies.
Mike Keneally's first album in well over two years is also the recorded debut of the tight and powerful Mike Keneally Band: Mike on guitar, keyboards and lead vocals, Rick Musallam on guitar and vocals, Bryan Beller on bass and Nick D'Virgilio on drums.
Dog is huge. It's Mike's heaviest, thickest array of sounds to date, featuring eleven supremely melodic and emotionally resonant songs. For anyone who's been waiting for an album from Keneally that rocks from end-to-end and is accessible enough to play for friends with more mainstream tastes, here you go. For those who still appreciate amazing, mind-opening music, the writing is deep, the arrangements intricate and the whole band's playing is ferocious and virtuosic. Mike Keneally's unique, compelling musical universe has added yet another fantastic new planet.
Track list:
Louie
Bober
Splane
Pride Is A Sin
Simple Pleasure
Physics
Raining Sound
Choosing To Drown
Gravity Grab
This Tastes Like A Hotel
Panda
Dog Bites

(Two minutes and twenty-six seconds of excerpts from each of the 11 songs on DOG)
©2004 Exowax Recordings, Spen Music, BMI