---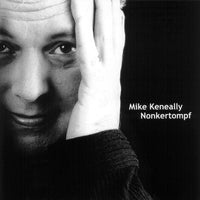 (Released in 1999. Read the
All Music Guide
review
.)
Mike Keneally ponders the infinite for about 74 minutes...
Mike's seventh album is a very personal instrumental effort featuring Our Boy playing everything, including guitars, keyboards, drums, sax, a stool and about a dozen other devices. Nonkertompf is a 74-minute stream-of-consciousness flight-of-fancy that takes the listener on an unparallelled sonic journey. Countless styles and moods are explored and seamlessly sewn together, always with extraordinary musical precision, rich orchestrational sense and a very big heart. It's his first release on Exowax Recordings-- in its first few weeks of release it became San Diego's best-selling CD and made the national charts. Check out Nonkeroni! to read what others think of this disc.
"I saw guitarist Mike Keneally play with Frank Zappa in the 1980s, nimbly negotiating the maestro's knotty charts, and I've watched Keneally cook hard with his twisted-fusion outfit, Beer For Dolphins. But none of it prepared me for the color and density of
Nonkertompf, a whirl of thirty-five instrumental miniatures, played by Keneally in their entirety and advertising not only his spicy fluency on the guitar but a flair for hot melodic sabotage rooted, yet not imprisoned, in Zappology. The music flies mad and fast, but what the hell? You have a whole century to digest it."
--David Fricke, Rolling Stone, March 2, 2000
"Nonkertompf is a different kettle of fish. This is wildly diverse stuff, comprised of arena rock anthems, folk themes, crazed ditties and piano ruminations. You may hear Zappa, but also Hendrix, prog-rock guitar and hints of cartoon music. Connections and recurring themes emerge, suggesting an underlying dream-like logic. [Keneally]'s a versatile, imaginative player with an offbeat sense of humor."
--Jon Andrews, Down Beat, April, 2000
Nonkertompf's 35 songs:
What are you doing
Click
I just got here
Naked horse
Blue jean baby
The knife & drum
Paprika
Nine
Sunset over the paprika festival
Juzz
Chew
Show yourself
Don't hurt our paprika!
Clumpy clumpy o
Oh angel
The Boing-Ah steroid
On a glandular level
The blumpy hop
Draconian blump
Rake Bannuh's men
Odon
I love it here
Drumsticks
Oprah talks to teens
Hum
Rake's men hurt their back
Piezo clambake
Medic!
Hang tough
An understanding of my self as other
Self 'n' Other
O, stamp collector
Show more of yourself
Lights out, eyes open
What I have done
Take the
Nonkertour

(a fleeting moment with each of the album's 35 chapters)
©1999 Exowax Recordings, Spen Music, BMI