---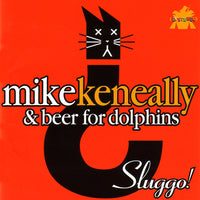 (Released in 1997, digitally re-released in 2009. Read the
All Music Guide review.)
Considered by many fans to be the ultimate Keneally album, it's a great pleasure to make the legendary Sluggo! available digitally after years of undeserved semi-oblivion.
"Mike can summon all the facility required for difficult music and still make it fun, fresh, warm, and, especially in much of Sluggo!, unshakably memorable," wrote Matt Resnicoff shortly after its release.
"So what else to say about Sluggo!, except that it delights, confounds and inspires?," Resnicoff continues. "Keneally's songs are infectious demonstrations of the wide musical berth a man of his skill requires, riddled with intricate treasures and chest- slamming force that never dislodge his ceaselessly heartful melodies. His vocals are terrific; in putative ode to his loves and losses, and to Al Hirschfeld, Keneally's vulnerabilities are laid out bare, and he sings them true; assessing the injustices of the universe, he cracks the universal smile. It's nearly impossible to banish from one's head the provocative strains of 'TRANQUILLADO,' 'Potato,' 'Chatfield Manor' and other gems from this record, not that one would necessarily care to do so anyhow."
Many more heartfelt odes to Sluggo! can be enjoyed here.
The download includes pdf scans of all original artwork (including the CD itself!), along with new liner notes by Mike. And now there are two types of downloads available:
MP3: A 163.4MB zip file containing high-quality (256k variable bit rate) mp3 audio files, compatible with all mp3 players. Our mp3s provide excellent sound for most uses. The files are DRM-free, meaning that there is no anti-copying code buried in them (we trust you).

FLAC: A much larger zip file (524.1MB, roughly four times the size of our mp3s) that offers CD-quality sound, the FLAC format is for experienced users and requires additional software. The FLAC format is not supported by iTunes or Windows Media Player. More information about FLAC can be found here: http://flac.sourceforge.net.
Songs on the Sluggo! download are:
Potato
I, Drum-Running, Am Clapboard Bound
Why Am I Your Guy?
Looking For Nina
Frozen Beef (Come With Me)
Tranquillado
What Happened Next
Chatfield Manor
Beautiful
"I Guess I'll Peanut"
Voyage To Manhood
Egg Zooming
Own
I'm Afraid
Cardboard Dog
Sluggo