---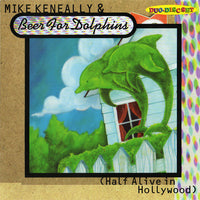 (Released in 1996, digitally re-released in 2009. Read the
All Music Guide
review
.)
All Music Guide describes Half Alive In Hollywood thusly: "This is a dense, 2-CD set... To hear [Keneally] and his group Beer for Dolphins unadorned is a stunning guitar rock experience. You can't just put any trio in an unfamiliar setting and get material like this. Complex, fascinating-- musical alchemists in the conjuring process."
Like most of Mike's '90s releases, Half Alive had been out of print for years until Exowax obtained his early catalog. In the new liner notes penned for this reissue, Mike writes of his decision to follow "two distinct paths as a musical guy: meticulous and painterly in the studio, and raw and intense on stage. The power trio format was (and is) a fantastic way to explore who I was (and am) as a guitarist."
And explore he did, resulting in two full CDs worth of once-in-a-lifetime music, one CD from the studio and the other from the stage. There are no fewer than 41 tracks of terrifying sonic stunts here, all enabled by his equally intense telepathic cohorts Bryan Beller on bass and Toss Panos on drums.
The download includes pdf scans of all original artwork (including the CD itself!), along with new liner notes by Mike. And now there are two types of downloads available:
MP3: A 211.5MB zip file containing high-quality (256k variable bit rate) mp3 audio files, compatible with all mp3 players. Our mp3s provide excellent sound for most uses. The files are DRM-free, meaning that there is no anti-copying code buried in them (we trust you).

FLAC: A much larger zip file (881.2MB, roughly four times the size of our mp3s) that offers CD-quality sound, the FLAC format is for experienced users and requires additional software. The FLAC format is not supported by iTunes or Windows Media Player. More information about FLAC can be found here: http://flac.sourceforge.net.
Songs on the Half Alive In Hollywood download are:
Disc One: Live In A Studio
Career/Quimby #1
Bryan Is Experimenting
Career/Quimby #2
I Can't Stop
Open Up!
My Dilemma
Spoon Guy (instrumental)
Uglytown (Epstein-Barr Variation)
Bryan Is Coughing
Skunk
Good Dolphins #1
Good Dolphins #2
Sort Of Performing Miracles
1988 In Hell
Day Of The Cow - Part One #1
Day Of The Cow - Part One #2
Snowcow
Sweating In School
Day Of The Cow - Part Two
The Unhappy Monologist (rehearsal)
The Unhappy Monologist (instrumental)
The Desired Effect
Disc Two: Live On A Stage
Dot-Da-Da-Dot-Dot-Dot-Dot-Daaaahhhh
Dhen Tin
Cheddar
The Car Song
Top Of Stove Melting
Aglow
Lightnin' Roy
Blameless
Power To Love
Bad Dolphins
Immigrant Song
Spoon Guy (vocal)
Uglytown
Career Politicians
Performing Miracles
Love Theme From Vulture Fun
Gypsy Queen
Scotch
Vent (bonus studio track)