---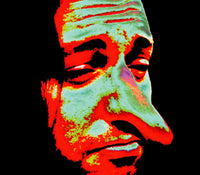 (Released in 1994, re-released in 2007. Read the
All Music Guide
review
.)
This Special Edition of Boil That Dust Speck contains the remastered CD plus a region-free NTSC DVD featuring bonus tracks, rare studio footage, vintage live concert material, interviews with participants, and video from a 2006 reunion of the original core band (Mike Keneally, Doug Lunn and Toss Panos) performing songs from both albums. And of course, the first 3000 copies of each Special Edition will be personally signed and numbered by Mike. The Boil That Dust Speck DVD includes a 90-minute presentation of "The Making of Boil That Dust Speck," featuring extensive video footage of 1994 album sessions, newly-shot interview footage, live-in-the-studio performances from Keneally, Doug Lunn and Toss Panos of "Weekend," "The Desired Effect" and "Skunk," and other vital tidbits, resulting in an exhaustive examination of Dust Speck which will thrill any Keneally enthusiast, music fan, or human. The DVD also features an audio archive, with more than 20 alternate mixes and unreleased tracks, including an unreleased recording session with Mike's rarely documented band Drop Control, playing together for the last time.
Mike on 1994's BTDS: "This was an album I very much needed to make-- an album wrenched out of my darkest depths while in the throes of an exciting variety of emotional torment, this album is a lot less goofy than hat." The result has been heralded as a masterpiece by critics and fans. Its songs have been a major part of Mike's live sets for years and head-ripping live versions are featured his 2006 Guitar Therapy Live release. BTDS has been unavailable for eons, and collectors have paid exhorbitant prices for it.
Keneally's entire Immune catalog from the 1990s is being remastered and reissued by Exowax. Boil That Dust Speck has been remastered with its original track order. Songs on the remastered Boil That Dust Speck CD are:
Sooth
'Cause Of Breakfast
The Desired Effect
Skunk
I'm Glad There's Lemon-Freshened Thorax In You
Top Of Stove Melting
Aglow
Bryan Beller's Favorite Song
Deep-Fried Skinks Are Go!
Good Morning, Sometime
Them Dolphins Is Smart
1988 Was A Million Years Ago
Yep, Them Dolphins Is Smart, Alright
Bullys (sic)
My Dilemma
Helen Was Brash
Weekend
Land Of Broken Dreams
Blameless (The Floating Face)
That Claim-Jumping Swine, O'Bannon
Faithful Axe
Natty Trousers
Scotch
There Have Been Bad Moments
Frang Tang, The Valentine Bear
I Will
In The Bone World
The Old Boat Guy, Part One
The Old Boat Guy, Part Two
The Old Boat Guy, Part Three
Speck Check

(Two minutes and sixteen seconds of excerpts from each of the 30 original tracks on the newly remastered Boil That Dust Speck)
©1994, 2007 Exowax Recordings, LLC
All rights reserved.