---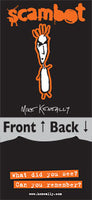 The first commemorative
Scambot
T-shirt is a simple but elegant affair. As tradition dictates, it's a black 100% cotton pre-shrunk heavy duty garment designed for years of Scambotian wearage. On the front is Mike's white, orange and black rendition of Scambot himself, along with both of their names. Somewhat high upon the reverse side are the prophetic first words Scambot hears, from the song "Hallmark" ("What did you see? Can you remember?"), along with the www.keneally.com web address. Clothes that ask gentle questions are a good thing, we think. It's yet another Atticus Wolrab design, as if you didn't know.
Mike Keneally
"Tomorrow"
Free Download from Scambot 1
written by Mike Keneally
©2009 Spen Music BMI

It's a free song download from the first volume of Mike's long-awaited Scambot trilogy. "Tomorrow" is track 5 on the Scambot 1 CD (a high-quality 256k VBR mp3, a 3.9 MB zip file) direct from the master recording.
Click here to download!