---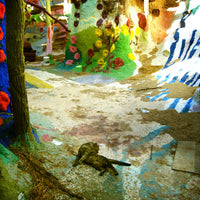 (Released in 2010. Read the
All Music Guide
review
.)
One bright morning, world-renowned drummer Marco Minnemann settled down behind the DW kit in his secluded hideaway, punched the record button, and proceeded to pound out an astounding 52-minute improvised solo. When it was finished, he christened it Normalizer 2 and offered it as a sort of gift to a handful of his favorite guitarists, relishing the prospect of each adding his own signature madness to the mix.
Mike Keneally was someone Marco hoped would dig the idea. In the throes of recording his intense and complex Scambot 1 opus, Mike leapt at Marco's offer the creation of Evidence of Humanity would be a joyous, freewheeling counterpoint to his meticulous work on Scambot. ""A fun ride,"" Mike would recall. (Of course, Marco recorded his own fantastic version, too, available at marcominnemann.com.)
The ecstatic result is two of the world's foremost musicians improvising together, but not at the same time. It's a record unlike any other that Mike has recorded (but probably closest to Nonkertompf, his indefinable, mostly instrumental 1999 solo extravaganza). Evidence of Humanity seems to have a life of its own, mutating and maturing with each listen.
Accompanying the
Evidence of Humanity
CD is a region-free NTSC DVD containing a tasty reimagining of the original concept. This time, Mike and Marco got together in real time and vaulted into the ether for another 52-minute musical improvisation, a feat that was videotaped for your pleasure. The DVD also includes an insightful conversation between the two kindred musical spirits, shot in the back seat of a car hurtling toward the cover shoot in the Southern California desert's dilapidated Salton Sea.
Evidence of Humanity's songs:
Respect?
Evidence of Humanity
Three People Run Naked Through School
Tooth and Cold Stone Pew
Now
Bastards Into Battle
You, And Your Problems
Bad Friday
Rough Time At The Hotel
Whoa
Kaa
Clown Removal
Forgive and Remember
Apex Music
Our Collective Wisdom To Date
Trying
A Place to Stay For The Night
Evidence of Humanity DVD's selections:
Elements of a Manatee live duo improv (54:54)
A Conversation with Mike and Marco (39:59)
Click
here

for your free "
Evidence of Humanity"
song download!
Mike Keneally/Marco Minnemann
"Evidence of Humanity"
Free Download from Evidence of Humanity
written by Mike Keneally/Marco Minnemann
©2010 Spen Music BMI

It's a free song download from Evidence of Humanity, the astounding collaboration between Mike and renowned drummer/Keneally cohort Marco Minnemann. "Evidence of Humanity" is the title track (track 2) of the Evidence of Humanity CD/DVD (a high-quality 256k VBR mp3, a 4.6 MB zip file) direct from the master recording. Enjoy!