---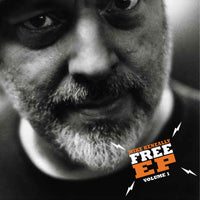 Mike Keneally
"Free EP Volume 1"
© Spen Music BMI, © ℗ 2013, Exowax Recordings, LLC
From Mike:
This EP is a sampling of live performances I've done with different groups over the years: two of the songs are from a DVD that comes with the Special Edition of my 2004 album Dog (one recorded in a living room, the other onstage), and the other three are from European live radio recordings
If you're new to my music, I hope this selection encourages you to further check out the stuff I do – in fact, another free EP awaits you here in the Free Downloads section.
I encourage the spreading of this Free Live EP far and wide. Feel free to put it on as many music download sites as you want, torrent the living hell out of it, tweet, Facebook, Pinterest...the more you tell your friends, the more people will download it, and that helps me build my audience. Which in turn helps me to make more music and tour...maybe even tour to your town. (We're trying to play everywhere we can.) All I ask is that the contents of this download (the music, art and liner notes) remain intact and unaltered and again, it remains FREE. So, please, share away!
Thank you for giving this EP a listen - see you on the road!
1. Choosing To Drown
(Leucadia living room, 2004)
2. Dolphins
(Amsterdam, October 11, 2005)
3. What Are You Doing
(Groningen, October 19, 2001)
4. Ankle Bracelet
(Geldern, August 18, 2007)
5. Nonkerchunk
(San Diego, August 16, 2003)