---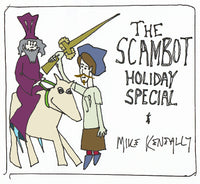 (Released in 2008.)
A fourteen-and-a-half minute ornament for any holiday season, written, produced and performed by Mike Keneally. Contains two new songs, "Holiday Face" (recorded specifically for this project) and "Salve-Dependent Scorpions" (an alternate take from the Scambot trilogy), framed by three short narrative pieces (as they might have appeared on some surreal alternate-universe '60s TV holiday special).
The price includes this audio download and a short PDF file with artwork and notes.
There are two types of downloads available:
MP3: A 29.8MB zip file containing high-quality (256k variable bit rate) mp3 audio files, compatible with all mp3 players. Our mp3s provide excellent sound for most uses. The files are DRM-free, meaning that there is no anti-copying code buried in them (we trust you).
FLAC: A much larger zip file (98.2MB, roughly four times the size of our mp3s) that offers CD-quality sound, the FLAC format is for experienced users and requires additional software. The FLAC format is not supported by iTunes or Windows Media Player. More information about FLAC can be found here: http://flac.sourceforge.net.
Happy holidays!
The tracks on The Scambot Holiday Special are:
The Quest
Holiday Face
The Swordfight
Salve-Dependent Scorpions*
The Owl
* also featuring Evan Francis on alto sax, Rick Musallam on guitar, Bryan Beller on bass and Joe Travers on drums.
You might also want to check out Scambot 1.