---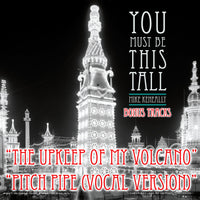 Mike Keneally
"You Must Be This Tall Bonus Tracks"
© Spen Music BMI, © ℗ 2013, Exowax Recordings, LLC
From Mike:
So, what we've got here are two oddball tracks, mutant outgrowths from the process of creating You Must Be This Tall.

"The Upkeep Of My Volcano" came from trying to figure out what to do with the basic material which ultimately became "Kidzapunk" on the finished album. It features a completely different melody/lyric over a much-shortened version of the basic track. For more information about volcano maintenance please refer to the book The Little Prince by Antoine de Saint Exupéry.

"Pitch Pipe (Vocal Version)" was almost the way it ended up going on the album, before I decided that the instrumental version fit better with everything else. This vocal "space opera" version seems to me to be a distant cousin to "Sooth" from Boil That Dust Speck. It is immensely bizarre.

I hope you enjoy these alternative versions!
1. The Upkeep of My Volcano
2. Pitch Pipe (Vocal Version)