---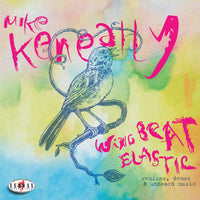 (Released in 2013.)
Mike Keneally on Wing Beat Elastic:
We'd originally thought that Wing Beat Elastic might be a download-only collection, a low-profile side dish to Wing Beat Fantastic, but after arriving at the song sequence and listening to it a lot, we came to love it and wanted to give it a full CD release treatment. We still love making physical products and I think we always will. (Wing Beat Elastic is available for download as well, in FLAC and mp3 formats, both including the full artwork and liner notes from the CD package.) Atticus Wolrab has created a beautiful digipak design that accurately reflects, in its color and mood, how this album relates to Wing Beat Fantastic and fits into the WBF universe.

I think that the 53-minute Wing Beat Elastic: Remixes, Demos & Unheard Music is a beautiful listen, and seems to work equally well in headphones and in cars, and in its full glory on elaborate home stereo systems (some people still have those, yeah?). We hope that, if you enjoyed Wing Beat Fantastic, you'll also enjoy this probe into the layers of that album's songs, be interested to hear some of the demos I did with Andy, and appreciate the chance to hear some unreleased music from the sessions as well.

We very happily present Wing Beat Elastic!
Along with your CD of Wing Beat Elastic, you also get a free digital audio download that includes an exclusive digital booklet.
There are two types of downloads available:
MP3: A zip file containing high-quality (256k variable bit rate) mp3 audio files, compatible with all mp3 players. Our mp3s provide excellent sound for most uses. The files are DRM-free, meaning that there is no anti-copying code buried in them (we trust you).
FLAC: A much larger zip file (roughly four times the size of our mp3s) that offers CD-quality sound, the FLAC format is for experienced users and requires additional software. The FLAC format is not supported by iTunes or Windows Media Player. More information about FLAC can be found here: http://flac.sourceforge.net.
Wing Beat Fantastic's songs:
I'm Raining Here, Inside (Chatfield/Harris Slight Return Mix)
Wing Beat Fantastic (Mark Vidler Psychedelic Re-Spray)
Bobeau (Keneally Laptopian Mix)    
You Kill Me (Keneally/Partridge Original Version Demo)
Miracle Woman and Man (Chatfield/Harris No Agenda Mix)
Corn    
Your House (Keneally/Partridge Demo)
Bobo (Keneally/Partridge Instrumental Demo)
Land With No Name (Chatfield/Harris Isle of Rachmaninoff Mix)
Wingbeat Fantasia: A Respectful Pause
Wingbeat Fantasia: Bobolink Wing
Wingbeat Fantasia: Out In The Wet
Wingbeat Fantasia: I'm Into It
Wing Beat Fantastic (Chatfield/Harris Venusian Single Mix)