---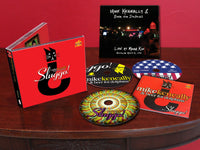 Now shipping!

Featuring extra live CD! First 1000 hand-numbered and signed by Mike Keneally!
(Released in 2013.)
Mike says:
My 1997 album Sluggo! has been out of print forever, but it's finally back!
It's available in a variety of formats featuring a great deal of unreleased audio and video material, and featuring new stereo and surround mixes of the Sluggo! album.
I've always felt the album is really good, but I've had reservations about the mix forever. It's a long story (told at length in the new liner notes in the reissue packaging), but the upshot is I'm finally completely happy with the sound of the album. Sixteen years after recording it, I finally feel like I've finished Sluggo!
Sluggo! SuperDeluxe (2-CD/2-DVD package) contains:
Live At Mama Kin, a CD of Mike Keneally & Beer for Dolphins performing live in Boston on August 15, 1998 (newly mixed by Mike Keneally and Mike Harris). First 1000 hand-numbered and signed by Mike Keneally
Same-day download of the 2013 Stereo Mix of Sluggo! in mp3 or FLAC
CD with 2013 Stereo Mix of Sluggo! plus two bonus tracks, "Craney" and "Bob Dylan's Nose"
DVD-A with PCM 16/48 Stereo, DTS 24/48 5.1 Digital Surround, MLP 24/96 Lossless Stereo & MLP 24/96 Lossless 5.1 Surround
DVD with over two hours of unreleased stereo live and studio video material, a commentary track by Mike, the original 1997 stereo mix, more bonus audio tracks, shots of the original tracking sheets and more
Digipak and 20-page booklet with all original artwork plus new liner notes
Along with your 2 CDs and 2 DVDs of Sluggo! Deluxe, you also get a free digital audio download of the Sluggo! (2013 Mix) that includes an exclusive digital booklet.
There are two types of downloads available:
MP3: A zip file containing high-quality (256k variable bit rate) mp3 audio files, compatible with all mp3 players. Our mp3s provide excellent sound for most uses. The files are DRM-free, meaning that there is no anti-copying code buried in them (we trust you).
FLAC: A much larger zip file (roughly four times the size of our mp3s) that offers CD-quality sound, the FLAC format is for experienced users and requires additional software. The FLAC format is not supported by iTunes or Windows Media Player. More information about FLAC can be found here: http://flac.sourceforge.net.
Sluggo! (2013 Mix) CD songs:
Potato
I, Drum-Running, Am Clapboard Bound
Why Am I Your Guy?
Looking For Nina
Frozen Beef (Come With Me)
TRANQUILLADO
What Happened Next
Chatfield Manor
Beautiful
"I Guess I'll Peanut"
Voyage To Manhood
Egg Zooming
Own
I'm Afraid
Cardboard Dog
Sluggo
Craney (Bonus Track)
Bob Dylan's Nose (Bonus Track)
Live at Mama Kin CD songs:
Guest Host Intro
BSSOC          
Immigrant Song           
Natty Trousers           
Why Am I Your Guy?           
Them Dolphins Is Smart
1988 Was A Million Years Ago         
Yep, Them Dolphins Is Smart, Alright           
Bullys (sic)           
Tug
Vent
Potato
Pencil Music
The Car Song
Voyage To Manhood
Top of Stove Melting
Inca Roads