---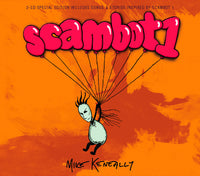 (Released in 2009. Read the
All Music Guide
review
.)
The Scambot 1 Special Edition includes the complete Scambot 1 CD, plus a second 53-minute CD crafted by Mike entitled Songs & Stories Inspired by Scambot 1, all packaged in an attractive Atticus Wolrab-designed slipcover made of genuine cardboard. This Special Edition is made even more special because Mike is individually numbering and signing the first 3000 copies!
Here's what Mike has to say about Songs & Stories Inspired by Scambot 1: "This is a very uncompromising album, with a lot of guitar improvisation, demanding sonorities, alien vocal textures, truly insane song structure and many crucial pieces of the Scambot plot continuity. Plus a very entertaining credit sequence. If you are intrigued by the conceptual world of Scambot, it's heavily advisable to hear both albums." The great majority of the music on Songs & Stories Inspired by Scambot 1 is unique to it; three of the pieces are remixes of songs from Scambot 1, plus one demo.
Songs & Stories Inspired by Scambot 1's songs:
Intro
Ahmmm...Ms. Loring...
Tiny Red Bug
Tomorrow (Karaoke Mix)
It Begins
Hallmark Fantasia
Broken Chair
Twinge
Saturate (Demo)
Some Crazy Mishap
The 3rd Eye
Hallmark (2006 Mix)
Credits
Mike Keneally
"Tomorrow"
Free Download from Scambot 1

written by Mike Keneally
©2009 Spen Music BMI

It's a free song download from the first volume of Mike's long-awaited Scambot trilogy. "Tomorrow" is track 5 on the Scambot 1 CD (a high-quality 256k VBR mp3, a 3.9 MB zip file) direct from the master recording.
Click here to download!