---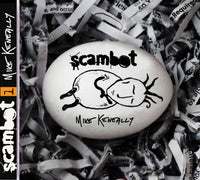 (Released in 2009. Read the
All Music Guide
review
.)
Calling the first volume of Mike Keneallys Scambot trilogy "ambitious" might be understating things a bit. For five years Mike held it close to his heart as his main project, employing nine engineers and many musicians at six studios.
"We devoted intense energy to every second of the album," says Mike. "There is a plot, and a bunch of characters. The CD booklet contains a very long story I wrote which lays out all of the action. Musically speaking, it's about two-thirds instrumental. It encompasses a little bit of straightforward-ish rock and pop, a lot of rigorous composition and arrangement, some obsessively intricate vocal and instrumental harmonies, some improvisation which has been orchestrated, some digitally-manipulated musique concrete, some purely uncategorizable stuff and, I think, some of the most interesting melodies I've come up with. It is a peculiar album but I think very satisfying as a journey, and emotionally it hits a lot of different moods."
And here's another clue for you all: Scambot 1, Mike adds, is "dedicated to anyone who still listens to entire albums with their headphones on."
Scambot 1's songs:
(
The
Scambot 1 Special Edition
includes the complete
Scambot 1 CD, plus a second 53-minute CD crafted by Mike entitled Songs & Stories Inspired by Scambot 1, all packaged in an attractive Atticus Wolrab-designed slipcover made of genuine cardboard. This Special Edition is made even more special because Mike is individually numbering and signing the first 3000 copies!)
Mike Keneally
"Tomorrow"
Free Download from Scambot 1

written by Mike Keneally
©2009 Spen Music BMI

It's a free song download from the first volume of Mike's long-awaited Scambot trilogy. "Tomorrow" is track 5 on the Scambot 1 CD (a high-quality 256k VBR mp3, a 3.9 MB zip file) direct from the master recording.
Click here to download!