---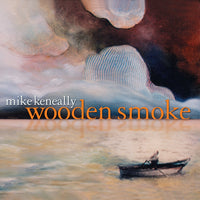 (Released in 2001. Read the
All Music Guide
review
.)
"When critics use the word 'mature' to describe somebody's music, it's usually code for 'old and boring.' Well, I'm wresting the word back to apply it in its proper sense to Mike Keneally's Wooden Smoke: this album is strong, gentle and wise. How many people do you know who can make a CD sound hand-carved? Beautiful."
---- Andy Partridge of XTC
Mike Keneally's tenth album contains some of the pop innovator's most elegantly adventurous and soulful music, set in a largely acoustic soundscape. A multi-instrumentalist with an unmatched pop cunning and an unrelenting gift for ear-twisting harmony, Keneally first rose to prominence as Frank Zappa's "stunt guitarist." His previous album, the critically acclaimed Dancing, debuted on three Billboard charts in 2000. Wooden Smoke combines Keneally's own multi-tracked virtuoso performances with several of his catchiest tunes.
"At the end of 2000," reports Keneally, " I started playing a whole lot of acoustic guitar, sitting on the floor in the living room. The sound of the instrument and the physical sensation of playing it formed the bedrock of Wooden Smoke; it's not your typical acoustic album, though there is a lot of interesting sound happening, generated in some fairly unorthodox ways."
In a characteristic departure from his previous releases, Mike has crafted a work that's courageous, yet soothing and evocative. A number of songs on Wooden Smoke feature dramatic and highly precise vocal arrangements, but the remaining material showcases Keneally on a variety of surprisingly unusual instruments, particularly for a record which sounds as familiar and fittingly accessible even as it challenges the listener.
Wooden Smoke's songs:
Hello
Bags
Haugseth
2001
New England
Nanny-Ass Crow
Dee n A
Boom
5 Legs
Fathers Day
Pantomime
Machupicchu
Wooden Smoke
Thanksgiving
Wood Chips

(Two minutes and twelve seconds from Wooden Smoke)
©2001 Exowax Recordings, Spen Music, BMI